>> ARCHIVE

July 29, 2007 - In keeping with tradition, the latest k-rakos album leveler has been released in the stealthiest manner possible--thus ensuring its place in the deep electronic underground. It features eleven completely new tracks which might be described as 'IDM with vocals' and is somewhat more up-tempo than its predecessor.

February 4, 2007 - In typical k-rakos fashion, new realities appeared with absolutely no promotional fanfare. However, the opening track green trees made it onto the QueerWaves broadcast on KOOP 91.FM Austin, TX: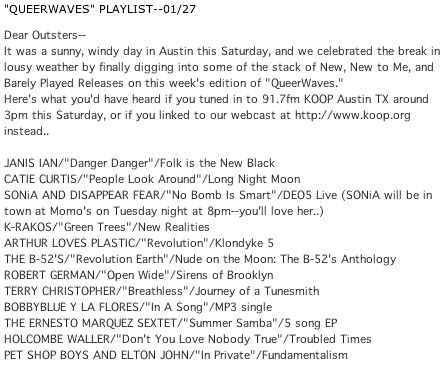 February 1, 2007 - Due to a problem with our old domain name registry, the k-rakos@mukkydiscc.com and T@mukkydiscc.com mailing addresses were temporarily out of order. But they're back up and running under a new service.



August 26, 2006 - At long last, the latest k-rakos album new realities is being released. Details forthcoming.

May 15, 2006 - We hope you grabbed them while you had a chance, because both the k-rakos cypherhead album and Todd's T92-05 retrospective mix have been removed from our free downloads section. Fear not, we are working on new material.

March 11, 2006 - The k-rakos track 'please destroy me' was featured on Taylor Cage's QueerWaves on 91.7fm KOOP Austin, TX.

February 1, 2006 - Patrick Conlan of the Illinois Entertainer writes:

"By splicing cool electric orchestration with stilted Casio-style beats, k-rakos attempts to birth a mutant strand of electronic songcraft. Sprawl is a trippy, trembling head piece that sets the tempo and ambience for the rest of is here. The dead-dance flatness sounds a bit soulless and the dramatic overtones border on the absurd, but the fat, sludgy electronics and asymmetric syncopation have a slippery appeal."

August 26, 2005 - The k-rakos is here album has been registered for sale at the Woobie Bear online music store. (A site which now appears to be defunct.)

August 11, 2005 - Those familiar with the labyrinthine remix site ACIDplanet may want to download the k-rakos 'seductive sedation' mix of the Morel song Cheerful. (This is how the world ends, woo-hoo!)

April 27, 2005 - After the quietest and least-hyped release ever, Todd's Pentagram and the k-rakos is here albums are now available.

December 24, 2004 - Todd Snow and k-rakos are just about finished with two new albums. We hope to release them both in early 2005.

December 14, 2004 - Todd Snow's Faraway Land album makes its appearance on iTunes.

August 30, 2004 - You may now catch k-rakos tunes on Cliqhop, the home of 'intelligent dance music' at SomaFM. See here:





August 23, 2004 - Todd Snow's spiritual ambient album Faraway Land is now available for purchase at CD Baby.

June 1, 2004 - This website is now a top listing for k-rakos on most search engines.

March 20, 2004 - K-rakos has provided additional production on the the latest Todd Snow album, Faraway Land.

March 1, 2004 - K-rakos has begun producing instrumental material to accompany silent film footage from the late Nelson Sullivan. (The resulting track is now available for free here.)




October 1, 2003 - Todd Snow has completed an album titled Cosmic Magic. (Never officially released, but parts of it have appeared in subsequent projects.)

July 11, 2003 - K-rakos played live at Mainframe, the now-defunct bi-weekly local Chicago electronic showcase.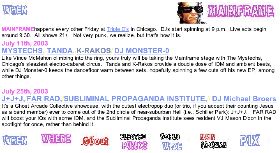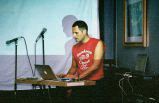 December 15, 2002 - The k-rakos album storynaught appeared as a music top ten in the Dec. 2002 issue of Artforum.

December 1, 2002 - Music by k-rakos and frequent collaborator Todd Snow has been featured on Hearts of Space, KWMU 90.7 FM, St. Louis.


( news )